How Many iPhones Will Apple Unveil On September 10? (AAPL)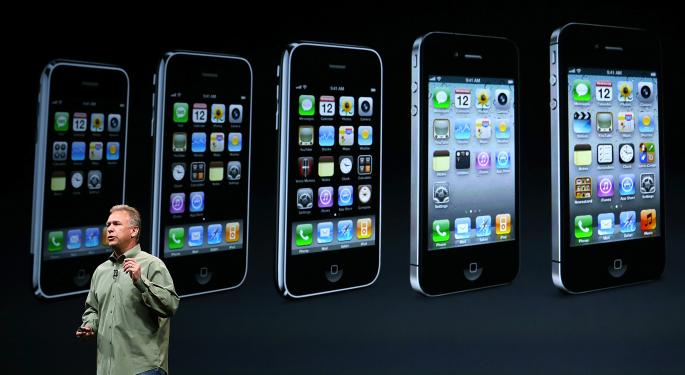 Apple (NASDAQ: AAPL) has not officially announced that it will hold a media event on September 10, 2013.
But AllThingsD's sources -- yes, there's supposed to be more than one -- claim that Apple is expected to hold an event that day.
Aside from the unlikely twist that Apple will use the presentation to focus on the next-generation iPad, it is safe to assume that the new iPhone will appear.
AppleInsider is convinced that the "mounting piles of rumors" suggest that Apple will unveil both the iPhone 5S (the high-end successor to the iPhone 5) and the iPhone 5C (a cheaper version of the beloved smartphone) next month.
Related: How Low Will Apple's Cheap iPhone Go?
While the iPhone 5C is expected to come in a variety of colors (yellow, red, green, blue and possibly others), the iPhone 5S is expected to add one new color to the Apple arsenal: gold.
The Name Game
Analysts firmly believe that Apple will not be able to increase its market share until it releases a cheaper iPhone.
If Apple agrees, then a low-cost iPhone is likely to be unveiled in September, just as the rumors claim.
The name, however, will probably be different from the one being tossed around the Internet.
First and foremost, investors need to remember that Apple has a long history of using names that are different from what bloggers and analysts expect. Remember iRadio and the iPad Air? The products turned out to be real but the names did not.
Apple may very well stick to the "S" format and apply that letter to the next iPhone. But it is highly unlikely that Apple will do the same for the low-cost iPhone.
"C" Is For "Confusion"
The "C" in "iPhone 5C" is already being mocked. Some say it stands for "cheap," others have argued that it means "crap." If Apple is aware of this (and you can be sure it is), the company will not use that name.
Not only that but by using the iPhone 5 moniker for its low-cost iPhone, Apple would be forced to retire the iPhone 4 and the iPhone 4S. After all -- who would buy an iPhone 4S if an iPhone 5C was also available? How could Apple properly differentiate between the two? Some consumers would wonder which phone was better.
If the iPhone 5C is the superior product, then the iPhone 4S should be cheaper. But if the iPhone 4S is cheaper than the iPhone 5C, that would defeat the purpose of releasing a low-cost iPhone.
Disclosure: At the time of this writing, Louis Bedigian had no position in the equities mentioned in this report.
Louis Bedigian is the Senior Tech Analyst and Features Writer of Benzinga. You can reach him at 248-636-1322 or louis(at)benzingapro(dot)com. Follow him @LouisBedigianBZ
Posted-In: AllThingsD Apple AppleInsider iPad AirNews Rumors Events Tech Best of Benzinga