Benzinga's M&A Chatter for Thursday February 7, 2013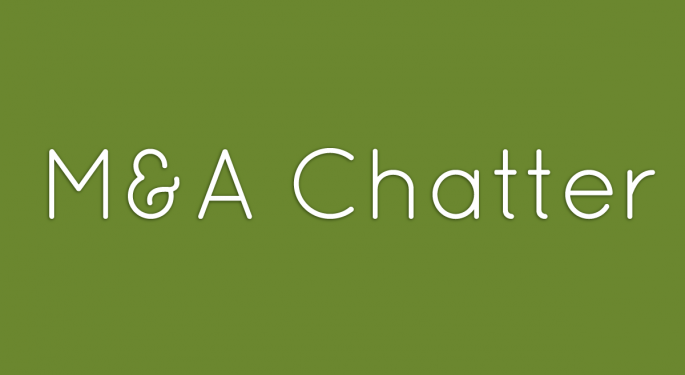 The following are the M&A deals, rumors and chatter circulating on Wall Street for Thursday February 7, 2013:
Landry's Offers to Acquire Ark Restaurants for $22.00/Share
The Deal:
Landry's announced Thursday that it has sent a letter to Ark Restaurants (NASDAQ: ARKR) proposing to acquire Ark in a negotiated transaction for $22.00 per share, which represents a 22% premium to Ark's closing price on February 6, 2013. Landry's is prepared to enter into negotiations to acquire all of the outstanding capital stock of Ark Restaurants for $22.00 per share in cash, which represents a 22.0% premium to the closing price of the Company's common stock on February 6, 2013.
Ark Restaurants closed at $21.22 Thursday, a gain of 17.60% on 17 times average volume.
Charter to Acquire Optimum West from Cablevision for $1.625B
The Deal:
Charter Communications (NASDAQ: CHTR) and Cablevision Systems Corporation (NYSE: CVC) announced Thursday that they have entered into a definitive agreement under which Charter Communications Operating, LLC will acquire Cablevision's Bresnan Broadband Holdings, LLC ("Optimum West") for $1.625 billion in cash. Optimum West manages cable operating systems in Colorado, Montana, Wyoming and Utah that pass more than 660,000 homes and serve 304,000 video subscribers and 366,000 customer relationships.
Cablevision Systems closed at $15.17 Thursday, a gain of 5.5% on twice average volume.
Renasant Corporation and First M&F Corporation Announce Merger
The Deal:
Renasant Corporation (NASDAQ: RNST) and First M&F Corporation (NASDAQ: FMFC) jointly announced today the signing of a definitive merger agreement pursuant to which Renasant Corporation will acquire First M&F Corporation, a bank holding company headquartered in Kosciusko, Mississippi, and the parent of Merchants & Farmers Bank, a Mississippi banking corporation.
According to the terms of the merger agreement, which has been unanimously approved by the Boards of Directors of both companies, M&F common shareholders will receive 0.6425 shares of Renasant common stock for each share of M&F common stock, and the merger is expected to qualify as a tax-free reorganization for M&F shareholders. Based on Renasant's 10-day average closing price of $19.22 per share as of February 4, 2013, the aggregate common stock consideration is approximately $118.8 million or 119% of tangible book value per share.
First M&F Corporation closed at $11.70 Thursday, a gain of 38% on 65 times average volume.
Posted-In: News M&A After-Hours Center Movers