GM and Ford Slump on Down Day
Shares of GM (NYSE: GM) and Ford (NYSE: F) traded lower on Monday, as the broader market sold off. GM broke below the $20 mark, while Ford stayed solidly in the single digits.
General Motors
According to the Congressional Budget Office the government has roughly 33 percent of GM's equity.
That translates to about 500,000 shares at $26.00 each or $13 billion. At today's price of around $19 that leaves the US Treasury with a paper loss of $7 per share, or 26.9%. Technically, GM has retired that debt by paying the Government with the stock. However, the sentiment around that is largely negative - many traders may not want to buy ahead of all that selling pressure yet to come.
GM is invested heavily in China. With concerns surrounding China's economy entering a possible hard landing, it could prove to be a powerful headwind.
Fundamentally, GM could be in trouble with total debt as of the most recent quarter at $14.22 billion and long-term debt-to-equity ratio of 35.44 and EPS growth of -60.9%.
Yet, on the other hand, one can argue that GM has a low valuation with a 5.79 P/E, sales growth of 4.3%, PEG 0.43, and $20.09 cash per share. GM also has a strong book of business, which appears to be growing. Good cash flow and a high short ratio above 6 - a contrarian indicator.
Technically, GM is at a long term support level of $19.00 as it bottomed there in October and December of last year.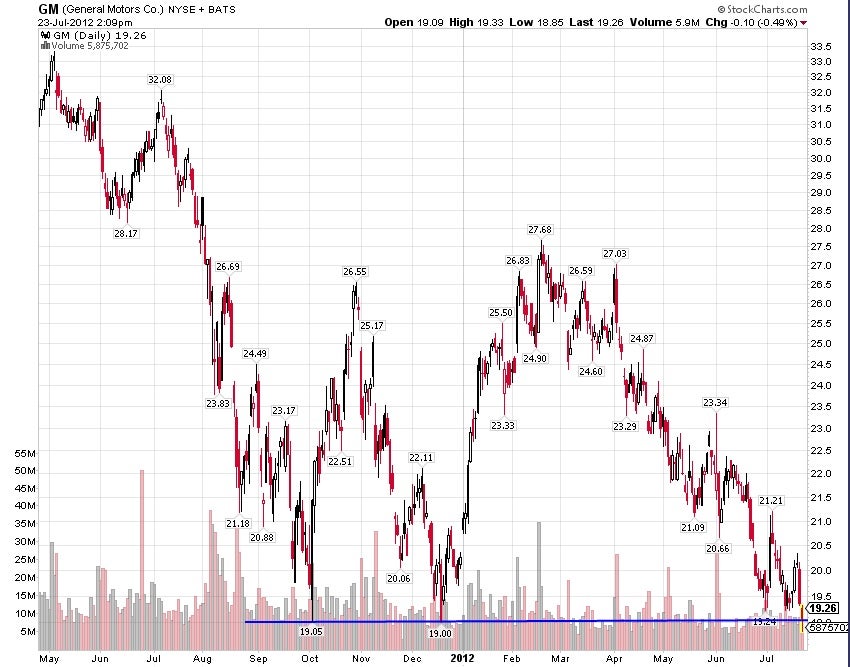 Ford Motor Company
Ford did not take a bailout from the U.S. government, however, it still has large amounts of debt - $100.49 billion in fact. Ford has a total debt-to-equity ratio of 603.54 much worse than GM.
Of course, Ford has made large investments in Europe, which appears to be poorly timed given the current European turmoil.
Fundamentals show Negative sales and earnings growth, -2% and -45.3% respectively. Very poor cash flow last quarter, coming in slightly over -$18 billion.
Ford's CEO Alan Mulally did a great job turning Boeing (NYSE: BA) around in the 1990's and traders may anticipated a similar turnaround story at Ford.
Fundamentally, Ford is incredibly cheap on valuation. It is hard to believe that an S&P large cap can even trade with a P/E of 1.94, a PEG 0.66, a profit margin above 14%, and return on equity of almost 200%.
At first glance, Ford appears to have a broken chart, trading down from its previous support trend line. However on a longer chart - much like GM - there is a strong support level at $9.00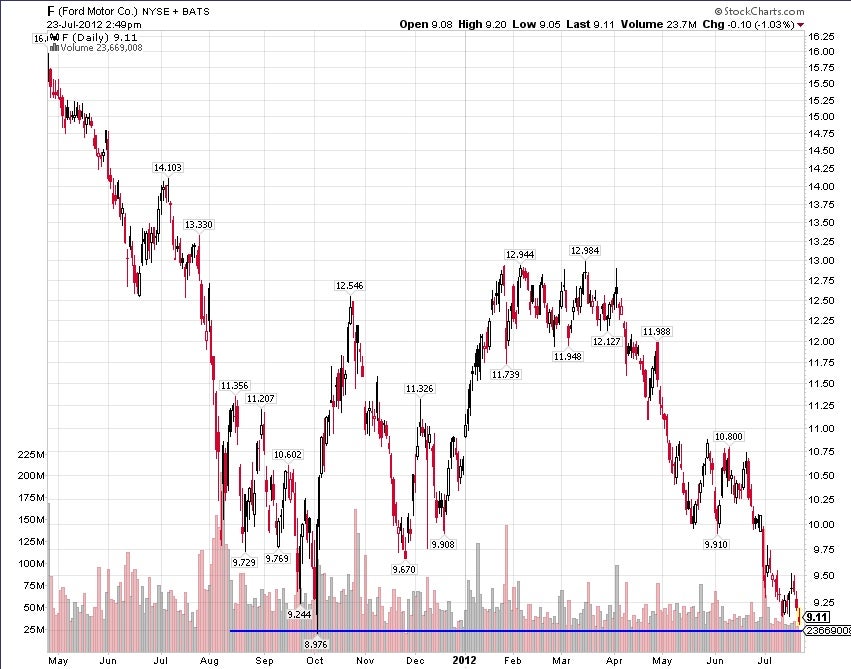 When the markets are choppy due to economic uncertainty, and global or US growth is in question, cyclical companies like auto manufacturers generaly sell off. That is currently true of both GM and Ford. Perceived slowdowns in China, Europe, and potentially the U.S. have traders chasing defensive plays. At what point do value investors start picking up these great American icons?
Posted-In: News Global Economics Intraday Update Movers Trading Ideas
Around the Web, We're Loving...
Related Articles (F + GM)
Partner Network