iPad Mini vs. Kindle Fire and Galaxy Tab
To gauge the potential success of Apple's still-unannounced seven-inch tablet, ChangeWave Research asked nearly 2,900 consumers about their planned tablet purchases.
First, the research firm asked, "Who is the manufacturer and what tablet device are you planning on buying?" The results aren't all that surprising: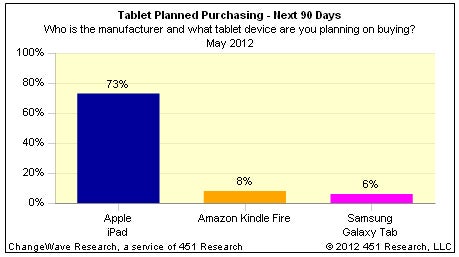 Image Source: ChangeWave Research
Then ChangeWave asked, "How likely is it that you will buy an Apple (NASDAQ: AAPL) 'iPad Mini' for yourself or someone else (e.g., a family member) if-and-when it becomes available?" The results are as follows: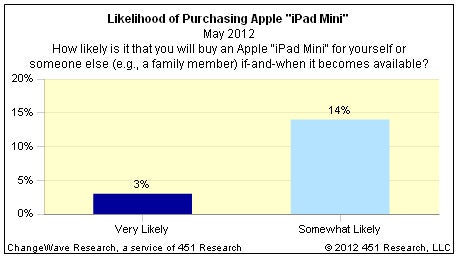 Image Source: ChangeWave Research
At just 3% of consumers surveyed saying that they are "very likely" to buy an iPad Mini, and only 14% saying they are "somewhat likely," you might think that the prospects of a seven-inch iPad are not good. But while this question was separate from the aforementioned "planned purchases" inquiry, it shows that consumers are (potentially) more interested in buying a small iPad than any of the non-Apple tablets. With only 8% of the people surveyed planning to buy an Amazon (NASDAQ: AMZN) Kindle Fire, and just 6% interested in the Samsung Galaxy Tab, Apple will continue to lead with or without a seven-inch iPad.
"At the moment, the greatest competitive threat to the new iPad could well be the iPad Mini -- which doesn't exist yet, but even if it ever does, it too will be made by Apple," Dr. Paul Carton, ChangeWave's Vice President of Research, said in a company release. "When it comes to tablets, the ChangeWave survey shows Apple continuing to exert near total control over the market."
Last week, Apple saw its stock drop from $579.17 at the start of the week to $560.99 by the market close on Friday, June 1. Amazon endured a few declines as well, opening the week at $214.75 and closing June 1 at $208.22. But Amazon rebounded this week, closing Monday at $214.57. Apple saw an increase as well, but not a full recovery; the Mac maker closed Monday at $564.29.
Despite Apple's dominance, ChangeWave admits that the iPad is (as noted in its research) "down a bit from the extraordinary demand levels seen at the time of the March new iPad launch."
The same can be said for any tablet as it ages; when ChangeWave asked consumers about their planned tablet purchases in November 2011 (the month in which the Kindle Fire was released), a whopping 22% said that they planned to buy a Kindle Fire. By March 2012, that number had dropped to 7%. As of May 2012, 8% of consumers said that they plan to buy Amazon's tablet.
What about the Kindle Fire 2, which is expected to be released this fall? Curiously, ChangeWave did not ask consumers about their interest in that device. If they had, it might have painted a different picture than the one we see now, which indicates that the iPad Mini could rule the market alongside the standard iPad.
During the pre-market hours this morning, Apple is down 0.58%. Amazon dropped 0.61%.
Follow me @LouisBedigianBZ
Posted-In: Amazon Apple ChangeWave Research Galaxy Tab iPad iPad 2 Kindle Fire SamsungNews Success Stories Tech Best of Benzinga
Around the Web, We're Loving...
Related Articles (AAPL + AMZN)
Partner Network