Gordon Brown: The Worst Gold Trader of All Time

Gold has been a market darling since the onset of the financial crisis, rallying to record high prices. Non-traditional monetary policy has seen currency devaluation drive prices higher.
The yellow metal was also in the headlines more than a decade ago, specifically in England, as Gordon Brown cemented his place as the worst gold trader of all time.
Gold prices have historically been rather stable, especially prior to the period of fiat currencies. Before the termination of the Bretton-Woods Agreement in 1971, gold and silver backed currencies - and thus prices - were fixed by currency rates.
In the 1990's, traders used gold in carry trades. Because of its price stability, traders borrowed gold and sold it to purchase other assets. The trade is profitable if the gain in the other asset is greater than the shorted gold. Banks then decided to enter these trades, and by 1998 much of the banking system was short gold.
Gold prices started to rise in 1998 and banks started to see losses on these carry trades that were very large. The global economy was beginning to peak at this time and the tech bubble was reaching its peak as well. One globally significant U.S. bank in particular, according to The Telegraph, is believed to have been heavily short on two tonnes of gold - enough to make the bank insolvent at the time.
In steps then-U.K. Chancellor Brown. Faced with the prospect of a global banking meltdown, Brown decided to sell all of England's nearly 400 tonnes of gold, which at current prices would be worth roughly $20.27 billion. The real crisis was in the way that the former Chancellor decided to sell.
Brown followed simple supply and demand economics to aid the banks and save the fledgling system. To lower prices of the metal, Brown announced ahead of the sales that the government was set to sell all of its gold. By doing so, prices adjusted to the excess supply by falling. As prices dropped, banks that were short gold either saw losses shrink or even made profits.
Further, by selling the gold at auction, Brown was able to get the lowest price possible (because banks bid below market prices). By selling the gold in this manner, he was able to save the banking system.
The opportunity costs of these sales, however, have been very large. Brown forced England to receive bad prices by announcing the sales and seeing rates fall. Moreover, England could have seen its gold reserves appreciate in value as the metal rallied afterwards.
In all, Brown may have rescued the global banking system - but netted a nearly $14 billion loss on the trade at current levels.
Stock chart: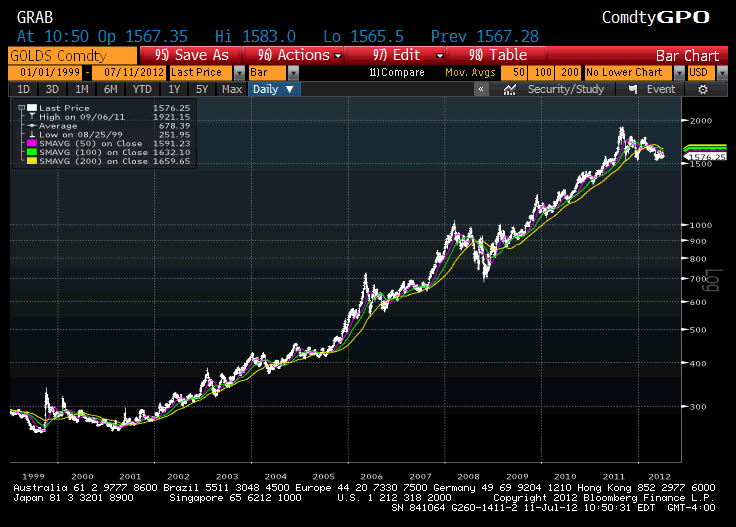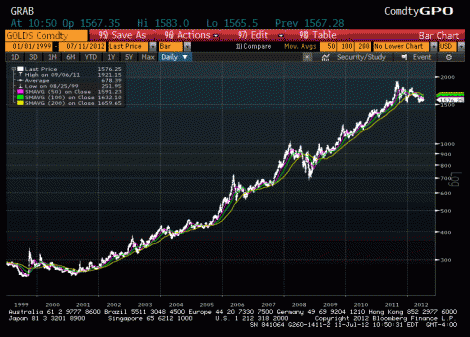 Posted-In: Bretton-Woods carry trade Gold Gold Bubble Gordon BrownCommodities Politics Topics Global Economics Markets General Best of Benzinga
Around the Web, We're Loving...
Partner Network