Bond Market Week Ahead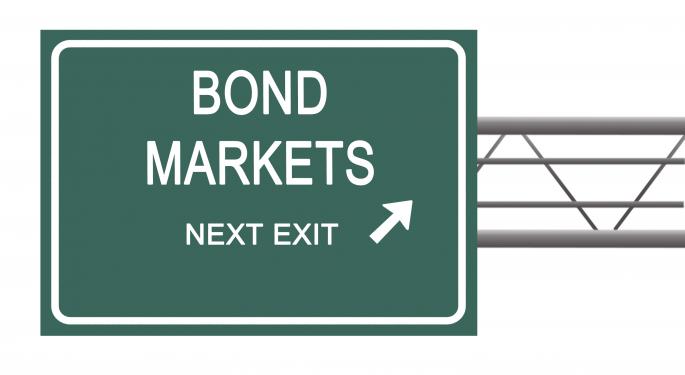 U.S. economic data, Eurozone sovereign rates, and safe haven buying will drive the bond market this week. These factors may lead to a retest of short term support in 10 year yields.
The yield has been in a narrow trading range between 2.83 percent and 2.59 percent since February, and a broader range of 3.03 percent to 2.47 percent dating back to last October. A weekly close below 2.59 percent will likely fuel a retest of the secular bear market trend line at 2.47 percent.
Last week, worries of an escalation of tension in Ukraine and pressure in global equity markets pushed the yield on the 10 year note to a six month low on Monday. Yields rebounded slightly the rest of the week and closed Friday at 2.618 percent.
Related: Bond ETFs Outperforming Stocks
Here's a look at this week's factors:
U.S. Economic Data
April Retail Sales on Tuesday and Industrial Production and the Philadelphia Federal Reserve Survey on Thursday are expected to reconfirm the rebound in the economy this quarter that we have been seeing in all recent economic reports.
The weekly report of the Bloomberg Consumer Comfort Index is released Thursday and the University of Michigan preliminary reading on Consumer Sentiment closes out the calendar on Friday. Both bear watching as leading indicators to future consumer activity.
Bond investors have shrugged off the strength of the recent data as a rebound from the flat Q1 GDP. A drop in consumer confidence would indicate a slowdown in the economy's positive momentum going into the second half of the year.
The decline in long-term rates and the flattening of the yield curve have been a surprise to many in recent weeks. It is hard to deny the economy's current strength, but not everyone is optimistic about growth in the coming quarters. That is likely how most traders are interpreting the bond market's reaction to the spate of positive economic data this month.
The bond market is currently priced for a moderately growing economy with inflation running in the low to mid 1.00 percent
Eurozone Sovereign Rates and Safe Haven Buying
European sovereign debt is priced for disinflation. German and French 10 year yields are both back below 2.00 percent, at 1.37 percent and 1.94 percent respectively. In the peripheral countries Italian and Spanish yields are both down over 100 basis points year to date.
To global bond investors, US Treasury yields of 2.50 percent-3.00 percent are very attractive given how low rates have fallen in the Eurozone. This foreign demand is offsetting the Federal Reserve's tapering and capping any potential rate rise at home.
Comments by Mario Draghi last week suggested the ECB would lower rates again in June. This will likely continue to put downward pressure on yields of U.S. Treasuries, municipal, and high-grade corporate bonds.
The U.S. still remains the safe harbor when turmoil appears anywhere in the world. Courtesy of the trouble in Ukraine, fears of a China hard landing, and volatility in the emerging markets there is a massive market demand for government bonds with longer dated maturities.
This Week's Economic Data
| | | | | | | |
| --- | --- | --- | --- | --- | --- | --- |
| Day | Time (ET) | Report | Period |   | Forecast | Previous |
| Mon | 2:00 pm | Federal Budget | April |   | --- | $113 bln |
| Tues | 8:30 am  | Retail sales  | April |   |  0.3 percent  | 1.1 percent |
| Tues | 8:30 am    | Retail sales ex-autos |  April |   | 0.5 percent | 0.7 percent |
| Tues | 8:30 am  | Import price index  | April  |   | 0.4 percent | 0.6 percent |
| Tues | 10:00 am     | Business inventories | March |   | 0.4 percent | 0.4 percent |
| Wed | 8:30 am     | Producer price index | April |   | 0.2 percent | 0.5 percent |
| Wed | 8:30 am   | Jobless claims  | 5/10 |   | N/A  | 319,000 |
| Thurs | 8:30 am   | Consumer price index  | April  |   | 0.2 percent | 0.2 percent |
| Thurs | 8:30 am    | Core CPI | April  |   | 0.2 percent | 0.2 percent |
| Thurs | 8:30 am    | Empire state index | May  |   | 5.5 | 1.3  |
| Thurs | 9:15 am   | Industrial production | April |   |  0.2 percent | 0.7 percent |
| Thurs | 9:15 am     | Capacity utilization  | April |   | 79.1 percent | 78.9 percent |
| Thurs | 10:00 am    | Home builders' index | May |   | 49 | 47 |
| Thurs | 10:00 am     | Philadelphia Federal Reserve Survey | May |   | 15.2 | 16.6 |
| Fri | 8:30 am      | Housing starts | April |   | 985,000 | 946,000 |
| Fri | 9:55 am  | UMich consumer sentiment | May |   |  84.4  |  84.1 |
Posted-In: Bloomberg Consumer Comfort Index Bond market Consumer Sentiment industrial production Philadelphia Fed Survey retail salesBonds Markets Best of Benzinga