The Bernanke Aftermath: Where Are QE3 Chances Now?

Federal Reserve Chairman Ben Bernanke painted a negative picture of the U.S. economy in his testimony on capitol hill Tuesday, citing higher foreign, slowing manufacturing growth, and a sluggish employment recovery. Further, he reiterated the Fed's bleak forecast for the economy which the Federal Open Market Committee (FOMC) published at the June meeting.
Initially, headlines broke from the Chairman's prepared speech and risk assets sold off, indicating that markets were digesting the negative tone that Bernanke took. However, as he spoke and as the question and answer session began, risk assets appeared to bottom and soon rallied. For example, the Dow Jones Industrial Average fell nearly 150 points from the opening until during Bernanke's speech before rallying and retracing all of the losses.
The rally can only be attributed to improved sentiment on hopes of further easing. Investors and traders have seen Fed policy drive risk assets such as stocks higher since the lows of 2009 and hope for more easing to fuel another rally. However, the question remains: where are hopes of QE3?
The best indicator for more Fed action has been medium-term inflation expectations, as measured by the 10-year breakeven rate. This rate is calculated by subtracting the 10-year U.S. TIPS yield from the 10-year U.S. bond yield, effectively giving a market-based measure of inflation expectations. Recall that quantitative easing is used to fight deflation or disinflation, and so easing inflation expectations are key to any further policy.
As the chart below shows, inflation expectations have lowered over the past month since the Fed decided to extend Operation Twist. However, the Fed has printed only when medium-term expectations fall below the 2 percent mandate to 1.75 percent. Currently, medium-term inflation expectations are near 2.07 percent, well above the 1.75 percent target. Should inflation expectations fall, the chances of further easing would increase. However, should expectations remain elevated, hopes of easing of this kind would be dashed.
Even though quantitative easing may be ruled out for now, the Fed may launch another type of unorthodox policy. In its June meeting minutes and in Tuesday's testimony, Bernanke reiterated that the Fed is considering new types of easing policies. For example, the Bank of England recently decided to add incentives to lending growth by giving lower borrowing rates in exchange for credit growth.
Stock chart: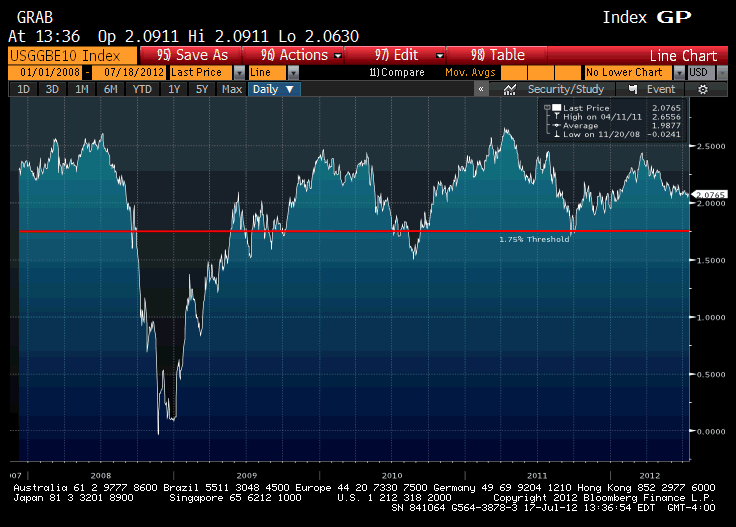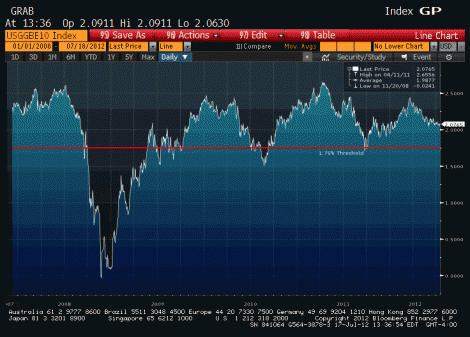 Tags: Ben Bernanke, Federal Open Market Committee, Operation Twist
Posted in: Bonds, News, Futures, Commodities, Forex, Events, Global, Econ #s, Economics, Hot, Intraday Update, Markets, Best of Benzinga
Partner Network
Around the Web, We're Loving...
Partner Network