These 10 Companies Have the Best Business Outlook According to Employees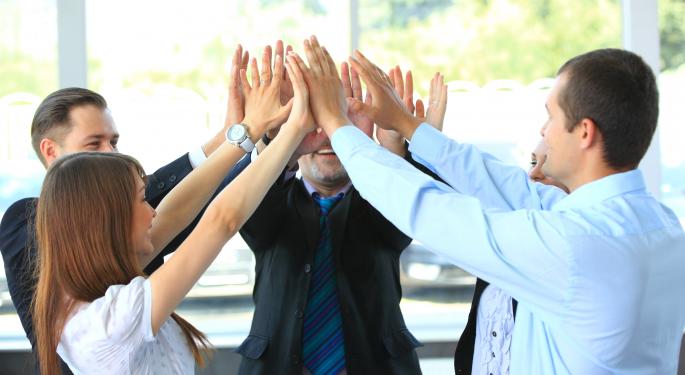 A new report from Glassdoor has surveyed employees around the country and captured their sentiments on the prospects of their employers.
The survey is voluntary and anonymous, containing the question: Do you believe your company's business outlook will get better, stay the same or get worse in the next six months?
Company ratings are determined by respective employees. Check out the slideshow to see who made the top ten.
Posted-In: Amazon.com General Motors Glassdoor GoogleNews Entrepreneurship Rumors General Best of Benzinga
Close Next 1/10 Previous

10. Home Depot

Outlook Getting Better: 61%

Staying the Same: 32%

Getting Worse: 6%

Company rating (out of 5): 3.3

Close Next 2/10 Previous

9. Whole Foods Market

Outlook Getting Better: 62%

Staying the Same: 29%

Getting Worse: 10%

Company rating (out of 5): 3.8

Close Next 3/10 Previous

8. General Motors

Outlook Getting Better: 62%

Staying the Same: 24%

Getting Worse: 14%

Company rating (out of 5): 3.9

Close Next 4/10 Previous

7. Publix

Outlook Getting Better: 64%

Staying the Same: 32%

Getting Worse: 5%

Company rating (out of 5): 3.6

Close Next 5/10 Previous

6. Tata Consultancy Services

Outlook Getting Better: 65%

Staying the Same: 31%

Getting Worse: 4%

Company rating (out of 5): 3.3

Close Next 6/10 Previous

5. Amazon.com

Outlook Getting Better: 69%

Staying the Same: 23%

Getting Worse: 8%

Company rating (out of 5): 3.5

Close Next 7/10 Previous

4. SAP

Outlook Getting Better: 73%

Staying the Same: 23%

Getting Worse: 3%

Company rating (out of 5): 4.1

Close Next 8/10 Previous

3. Yahoo!

Outlook Getting Better: 75%

Staying the Same: 25%

Getting Worse: 0%

Company rating (out of 5): 3.9

Close Next 9/10 Previous

2. Qualcomm

Outlook Getting Better: 76%

Staying the Same: 24%

Getting Worse: 0%

Company rating (out of 5): 4.0

Close Next 10/10 Previous

1. Google

Outlook Getting Better: 86%

Staying the Same: 14%

Getting Worse: 0%

Company rating (out of 5): 4.2