SLIDESHOW: Action Packed Video Game Stocks That Will Keep You Entertained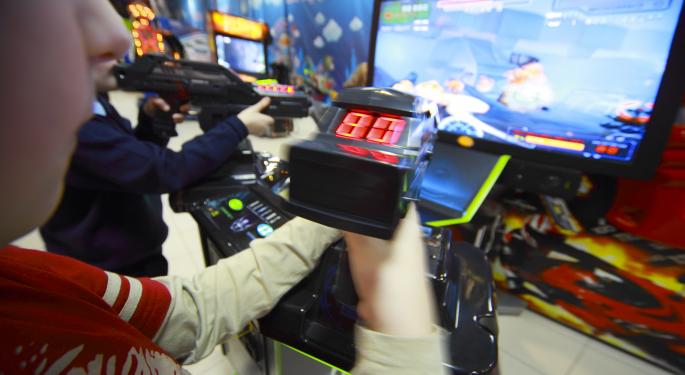 The winter season is always a popular one for video gamers and consoles alike.
As record sales for the Grand Theft Auto franchise trickle (or flood) in and the football season is getting underway, some companies are preparing for a big boost in revenue.
With the upcoming release of two new consoles, the newest upgrade for each in at least seven years, here are five video game stocks to keep your eye on for the remainder of 2013.
Posted-In: Call of Duty Grand Theft Auto Madden 25Education Commodities Psychology Markets General Best of Benzinga
Close Next 1/6 Previous
Take-Two Interactive Software

Prior to the phenomenal release of the video game Grand Theft Auto 5, Take-Two Interactive (NASDAQ: TTWO) was already up 1.3 percent in pre-market trading.

First day sales of the video game reached $800 million, and only two million shy from the "entertainment release to hit 1 billion record the fastest."

Analysts are predicting that the gross will surpass one billion and the growth should be well off in that direction for the remainder of September.

Electronic Arts

Madden 25, one of the most known video games associated with EA Sports, isn't doing better than it's predecessors Madden 12 or Madden 11 for its first week sales. Electronic Arts (NASDAQ: EA) is still at a good standing, however, when compared to other video game publishers.

Stats show that "Madden 25" sold more than a million copies their first week, which is still a great start. Friday, the stock opened at 26.97 and they are only moments away from climbing over their current 52-week high of 28.13 and setting a new record.

Keep an eye on EA Sports and remember that PlayStation 4 and Xbox One are expected to arrive in November, both platforms where EA Sports games thrive.

Activision-Blizzard

Activision-Blizzard (NASDAQ: ATVI), the company behind the contagious Call of Duty game series, opened Friday at 17.11.

It has been a good year for the company as they've gained 60 percent in shares in 2013.

Although Grand Theft Auto 5 broke Call of Duty: Black Ops' previously-held opening day sale record of 1.4 million with 1.57 million copies sold, Activision-Blizzard is set to release one of the most anticipated games of the year on November 5, called Call of Duty: Ghosts.

This is expected to earn well over $1 billion.

Sony

Here's what Sony (NYSE: SNE) has in store: they will release the PlayStation 4 in November of this year; The company also just released Madden 25, which along with NBA 2K14 will be available for the PS4 around the same time.

With a line-up like that, it's hard to look past Sony.

The company opened Friday at 21.63, with a market cap of 21.87 billion and more than enough time for growth.

Microsoft

Microsoft (NASDAQ: MSFT), like Sony, will be releasing their own brand new console, the Xbox One.

This is also coming in November and the popular Madden 25 and NBA 2K14 will be available for play on this overly praised console as well.

Microsoft opened Friday at 33.64 and is an easy buy in at $23 per share, hardly any risk, and a game plan for gain.

Related links