The Short View: Focus Media (FMCN)
Earlier today, we here at Benzinga posted that Morgan Stanley had opened a 30-day tactical trade on Focus Media (NASDAQ: FMCN), which you can read here. However, there are still many questions being floated by investors as to the credibility of Focus Media's financials. Muddy Water's Research first pointed out the potential holes in FMCN's financials, but since then, the company has tried time and again to defend itself and its investors.
First of all, do note that Focus Media has not taken a question from a buy-side manager on any conference call since 2007; the only questions have come from sell-side analysts in that time. More so, Focus Media has successfully lied its way into a public flotation of stock and has used every and any loophole it can find to justify its financials. The first major lie exposed by Muddy Waters was the LCD Commercial Display Network. For those who don't know, one of Focus Media's largest business segments is installing LCD televisions in buildings which show advertisements. However, Muddy Waters revealed and Focus Media denied (and then was proven wrong by an independent audit) that Focus Media was over-stating its LCD panel network by classifying static cardboard advertisements as LCD panels.
Later on, Muddy Waters accused Focus Media of further wrongdoing. First, Muddy Waters noticed that Focus Media was telling investors that its movie theater network (FMCN advertises on movie theater screens also) was 17.9x bigger than the number of movie theaters in China. FMCN denied this by saying that theater meant screen and the total is the sum of the number of screens in each cinema, not just the theater as a whole. Also, FMCN claimed to have acquired six companies, which it in fact did not. Lastly, FMCN wrote down $1.1 billion worth of goodwill resulting from acquisitions, whereas the total value of the acquisitions was $1.6 billion. All in all, Muddy Waters seems to have a strong argument against FMCN.
Now, remember that the Morgan Stanley's call is a tactical trade. Muddy Waters has a longer time horizon, however there is clearly a short-side to this story. For each buyer there is always a seller, and sometime it is important to remember this.
Note: Muddy Waters is short FMCN. Also, FMCN reported first quarter earnings yesterday of $.46, beating consensus of $.43 (however, only 6 analysts cover the stock). You can read more on the earnings release here.
Stock chart: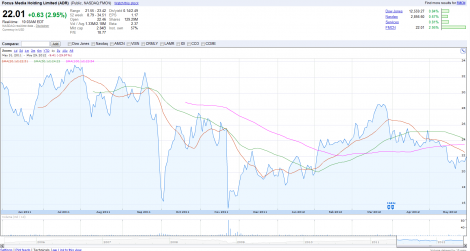 Posted-In: Muddy Waters ResearchAnalyst Color Long Ideas Short Ideas Reiteration Hot Markets Analyst Ratings Trading Ideas Press Releases Best of Benzinga
Around the Web, We're Loving...
Partner Network